Putney Dental Care School Visits
Putney Dental Care School Visits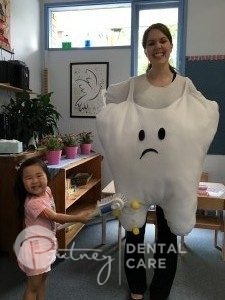 Since opening, Dr. Danielle and Kaitlynn have been providing school talks within the Ryde region to educate the students on maintaining their dental health.
We believe that good oral health habits are best formed at a younger age. We also enjoy teaching children in their own environment as well as at the Dentist. The two combined form positive reinforcement about dental health and also help to curb anxiety about going to the dentist.
We aim to make both our school visits and our dental visits for children fun and interactive, focusing on the positives and helping them to understand the importance of good oral hygiene.
During our visits, the children learn how to brush their teeth properly, what foods are best eaten all of the time and which aren't, and also what happens when we don't take good care of our teeth.
We welcome children of all ages to come and experience a fun, anxiety free and insightful visit whether it be their first visit to the dentist or if they have been seeing the dentist regularly.
6 Benefits of Smiling
Sport Mouthguard Guide