Call Putney Dental Care for the Best Orthodontics in Town!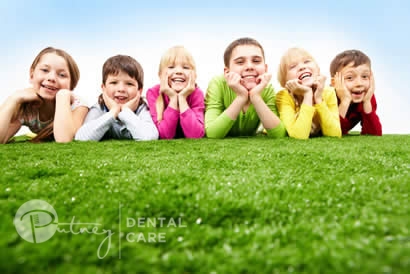 If you are unhappy with the appearance of your smile, or feel that your bite is not quite right, orthodontic Sydney treatment from Putney Dental Care is right for you.
Whether you prefer removable appliances or fixed braces, we offer a range of orthodontic treatment services that will suit your needs. Our orthodontic services can correct overbites, underbites, cross-bites, crowded and crooked teeth, jaw issues, impacted teeth, close spaces between teeth and any other orthodontic issue – we have a solution that will work for you.
Our various orthodontic options – clear braces, metal braces or lingual braces, for example, are just some of our cosmetic solutions to crooked or crowded teeth.
As one of the most trusted Sydney orthodontics providers, Putney Dental Care provide services in the surrounding areas of the Sydney CBD, with a number of orthodontic treatment options. Our highly-qualified team of orthodontic specialists at Putney Dental Care can diagnose your orthodontics-related issues and formulate a solution tailored to you. With us, you'll be able to get the perfect teeth that you have always wanted.
Our Approach to Specialist Orthodontics
When it comes to our approach to orthodontic treatment at Putney Dental Care, we take a step by step process that ensures you are getting the perfect orthodontist treatment.
1. Free Orthodontic Consultation Sydney
The first phase within our Sydney orthodontics processes is a consultation. This is a complimentary session, in which we aim to understand your situation and cater to your needs.
2. Assessment and Brace Treatment Plan
We then gather all the information needed to assess the case of a patient thoroughly and take the time to discuss your comprehensive orthodontic treatment plan.
3. Follow-up Appointments and Specialist Referrals
For the more complex cases, you may be referred to a specialist orthodontist that we work with to ensure that we obtain the best results for you.
When Is My Child Ready for Orthodontics?
When it comes to children, an initial orthodontic treatment evaluation is recommended for your child at no later than seven years of age, or at the first sign of orthodontic health problems. Why seven? It is because at this age, several permanent teeth have usually grown out. This gives our dentists and orthodontists assurance that there are permanent teeth to work on as they evaluate your child's orthodontic condition.
Preliminary Orthodontic Treatment
In some patients, preliminary interceptive treatment may be highly recommended. This is referred to as 'Phase One' treatment. With early diagnosis, we can take the least invasive approach to giving your child better tooth and jaw development. This treatment can include an orthopaedic appliance and/or partial fixed lingual braces, metal braces or clear braces. Other objectives of this procedure include making space for adult teeth, and advancing or expanding your child's jaw.
Addressing these issues while your child is still growing gives us the ability to address things that, left unchecked, could require surgery and more invasive approaches in the future.
Advantages of Early Orthodontics Treatment for Children:
Positively influence jaw growth
Create ideal dental arch widths
Improve eruption patterns
Reduce risk of trauma to protruded upper incisors
Correct myofunctional habits that may negatively influence jaw and tooth development, such as thumb sucking or mouth breathing
Improve self-esteem issues associated with smile, crooked teeth and other dental problems
Simplify or reduce treatment time should your child need orthodontic care later
Reduce likelihood of impacted permanent teeth
Orthodontics for Adults and Older Patients
Traditionally, orthodontic treatment was only for children and young adults. Indeed, traditional orthodontic approaches typically involved unattractive silver metal braces and wires. Today, more and more adults want teeth straightening but don't want the self-consciousness that often comes with traditional methods to correct their orthodontic problems.
If you are an adult unhappy with the alignment or appearance of your teeth and smile, our Sydney clinic has exactly what you need. Choose Putney Dental for a smile that you would be proud to wear!
Some adult orthodontic options include:
Removable teeth aligners
Ceramic (tooth-coloured) braces
Lingual 'invisible' braces that sit on the inside of your teeth
We offer services for adults in various areas that surround the Sydney CBD – feel free to give us a call at (02) 980825988 to arrange a complimentary consultation with our experienced Sydney orthodontist team and for more details such as braces cost, clear or invisible braces, ceramic braces and other orthodontic treatment. During the appointment, we go over which orthodontic option may suit you best.
A Leading Orthodontist in Sydney
When it comes to choosing an orthodontist in Sydney, Putney Dental Care are the best Sydney orthodontics providers in the area.
Whether you are in the Sydney CBD or in a location elsewhere within Greater Sydney and looking for cosmetic or general treatment, orthodontic services by Putney Dental are unrivalled. We provide treatment options to patients that perfectly suit the needs of our patients, balancing efficiency in orthodontic solutions with convenience and subtlety.
Our Broader Dental Expertise
In addition to our orthodontic treatment, we also offer a range of dental services. Whether your dentistry needs include crowns and bridges, dental implants, dentures, emergency care, root canal treatment, fillings problems, or just better teeth in general, Putney Dental provides effective treatment for all patients in Sydney, NSW.
Our Specialist Orthodontics Team Led By Dr. Danielle Do-Vuong
Dr. Danielle graduated from the University of Queensland with Class 1 Honours, and has been working in the dental industry since 2004. She has developed her wide range of skills working previously as a dental assistant, and then as a dentist in reputable dental practices across Sydney. Dr. Danielle has a strong passion for all aspects of dentistry, with a special interest in Orthodontics. Dr. Danielle is a member of the International Association for Orthodontics and has completed a mini-residency with a specialist orthodontist.
Feel free to give us a call at (02) 98082588 to arrange a complimentary consultation with our experienced orthodontist team and for more details such as braces cost, clear or invisible braces, ceramic braces and other orthodontics services. During the appointment, we go over which orthodontics option will suit you best.
Our Putney Dental Care dental clinic services the following Sydney areas – Ryde, Meadowbank, Gladesville and West Ryde.