Our Paediatric Dentists Will Take Care Of All Your Children's Dentistry Needs – Setting Them Up For A Lifetime Of Perfect Smiles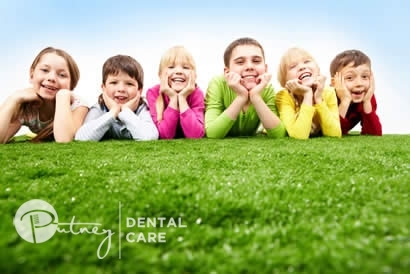 Sydney Paediatric Dentist
We understand that your child's first visit to the dentist can be a bit frightening. At Putney Dental Care, we go the extra mile to make them feel right at home. Our dental services team is fun, friendly and attentive to make your child's visit to the clinic as pleasant as possible. They will love coming back to get their teeth cleaned or have a cavity filled by one of our friendly paediatric dentists.
Making each dental appointment a positive experience for children is what we strive for. With our famous berry-flavoured mouth rinse, our young patients love it when it's time for their regular check-up. If you're on the lookout for a great kids' dentist, your child's teeth will be well taken care of in our family-friendly environment.
When To Take Your Child to the Dentist
Baby Teeth – Your Child's First Visit
You should start taking your child to the dentist within 6 months of the first tooth appearing. Since most children start to grow teeth around 6 months old, you should be taking your child to their first dental visit at the age of 1 at the latest.
It's important that your child is introduced to good oral health at a young age, because the early signs of tooth decay can be hard to notice. It's a good idea to get your child accustomed to regular dentist checkups so that they can continue to practice good oral hygiene habits once they become an adult. If your child's teeth are healthy, it sets them up to have healthy teeth and gums as an adult.
How To Introduce Your Child To The Dentist
You should talk to your child about what to expect at the dentist, and speak about your own experiences positively. It's a good idea to schedule your child's checkups early in the day so that they're not too tired, and plan a fun activity for afterwards – like eating a yummy meal or having a play date with a friend.
Regular Check-Ups For Children
You will need to take your child to the dentist regularly from the age of 1 until they are old enough to make their own appointments. The frequency of these visits may differ depending on the individual child's needs. You should discuss the timeframe for your next visit with the dentist every time you go.
Regular dental checkups are essential for children of any age, because they will help to prevent cavities and tooth decay. Dental services will ensure that children have a smooth transition between their early baby teeth and their adult teeth.
Oral Health Habits Your Kids Should Follow
1. Use Proper Technique
When kids are old enough to go to preschool or be dropped off at a daycare centre, it's time to teach them correct tooth brushing techniques. This starts with squeezing out a pea-sized amount of toothpaste. The brush must be moved back and forth in a gentle motion, preferably in circular strokes. The front and back of the teeth should be covered. Advise them to avoid scrubbing hard along the gum line as this can lead to irritation. Finally, establish brushing times with your children. Ideally, you should brush your teeth at the end of every meal (breakfast, lunch and dinner) but twice a day is a good enough start.
When children first start brushing their teeth, there are often areas (such as the back molars) that they miss. Getting fissure sealants at the dentist may help to prevent decay if this is the case.

2. Floss Regularly
Brushing one's teeth several times a day is not enough. At about 6 or 7 years old, you can introduce flossing. This form of dental hygiene typically comes after brushing, as it helps get rid of anything stuck between the teeth. There will always be bits and pieces of debris that your child's toothbrush will miss, so this extra step makes a big difference. Furthermore, flossing helps polish teeth and prevents bad breath

3. Reduce Sugar intake
It's true that the presence of sugar in one's mouth encourages the development of tooth decay. This has been proven time and time again in our kids' dental clinic. Additionally, how often your child eats is equally as significant as what they eat. Only a few people are aware that continuous snacking throughout the day actually increases the risk for tooth decay. Upon consumption of sugary foods, a minimum of 30 minutes is required for saliva to neutralise the acids brought about by decay-producing bacteria.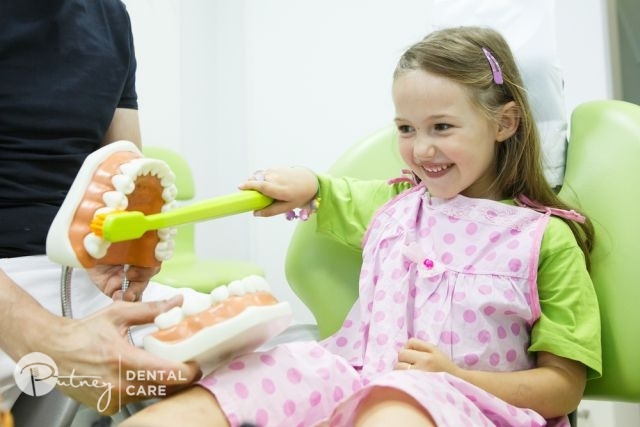 FAQs
At what age should a child begin seeing a paediatric dentist?
You should take your child to see the dentist a few months after their first teeth have appeared. Your child should have been to see the dentist well before they turn 2.
Is children's dental covered by Medicare?
The Child Dental Benefits Schedule (CDBS) is a government initiative within the department of health that aims to provide children with basic dental care. The scheme covers eligible children aged 2-17 years old. It is capped at $1,000 per child every two calendar years.
The program offers basic dental care services coverage, which typically includes dentistry for children treatments such as:
Check-ups
Fissure sealants
At Putney Dental Care, we offer bulk billing for the CDBS. What this means is that you will not need to pay a gap, or submit a claim, but you should bring your medicare card to every service.
How often should I take my kid to the dentist?
Your dentist will let you know how often your child needs to visit, but general check-ups will usually need to be scheduled in every 6-12 months. The school holidays are normally a good time to schedule a dental appointment.
Send Us a Message
Call to book your child's first dental appointment today. Or, complete your details below to email us and we will respond within 24hrs.
Interactive Clinic Viewer
Use our interactive clinic viewer to familiarise your child with our clinic.
Dentist Near Me
Address
A. Suite 5, 227 Morrison Rd, Putney, NSW 2112
(Next Door To Royal Rehab)
Reserved Parking Available At Rear.
Opening Hours
Monday – 8:30 am – 5:30 pm
Tuesday – 8:30 am – 5:30 pm
Wednesday – 8:30 am – 5:30 pm
Thursday – 8:30 am – 5:30 pm
Friday – 8:30 am – 5:30 pm
Saturday – 8:00 am – 1:00 pm
Emergency Appointments Available