If you have noticed a minor aesthetic flaw in your smile, a simple tooth reshaping may be your best point of action.
Tooth reshaping is a simple, pain-free and cost-effective cosmetic dentistry procedure that can provide you with a smile makeover alongside a newfound sense of self-confidence.
What is Tooth Reshaping (Dental Contouring)?
Tooth reshaping, also called dental contouring, is a cosmetic dentistry technique that involves removing part of the tooth enamel to correct aesthetic issues with your teeth. By removing a small portion of the enamel, our cosmetic dentists can either shorten longer teeth or reshape the structure of a misaligned tooth.
Even the slightest recontouring of a tooth can significantly improve the appearance of your smile, as it provides a simple correction to a range of minor cosmetic issues.
In comparison to other cosmetic dentistry treatments, the procedure is quick, low-cost and effective in its ability to achieve the smile of your dreams.
Why Consider Tooth Reshaping?
You may be a suitable candidate if you have the following cosmetic dental issues:
Noticeably uneven teeth 

Excessively long teeth

Minor overlapping teeth 

A chipped tooth or chipped teeth 

A misaligned tooth (only for minor misalignment)
However, it is important to note that tooth contouring and reshaping is only effective if you have a minor cosmetic issue. If you suffer from more severe dental problems, such as intense overcrowding, your dentist may recommend other cosmetic procedures such as crowns, orthodontics, composite veneers or porcelain veneers. 
Furthermore, as reshaping teeth is a cosmetic procedure, it is inappropriate if you have major dental issues such as root canals, tooth decay, infected pulp, or unhealthy gums.
The best practice is to book an appointment with our Putney Dental cosmetic dentistry team, so you can receive advice that's personalised to your wants and financial needs.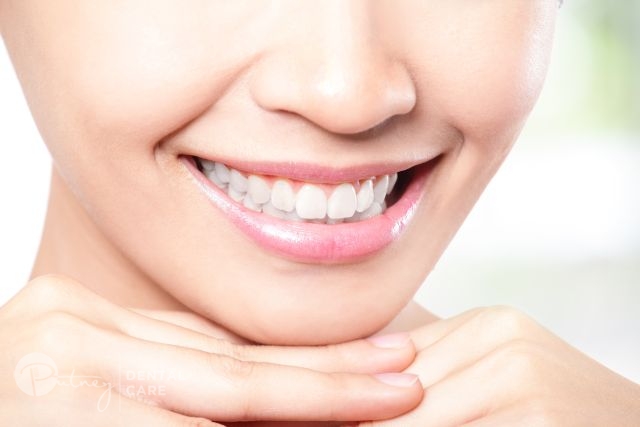 How Does the Cosmetic Procedure Work?
Initial Consultation
In an initial consultation, one of our expert cosmetic dentists will conduct an oral health examination which includes using dental X-rays. This examination will ultimately assess the health of your gums, teeth and enamel, ensuring that you are a suitable candidate for the procedure. 
After discussing pricing costs and relevant need-to-know information, you can book an appointment to reshape one or more teeth.
Tooth Reshaping Process
On the day of the procedure, try to avoid eating any foods that can become lodged in your teeth and ensure to thoroughly brush before arriving at your appointment. When on the chair, your dentist will conduct a final dental examination before removing a portion of the tooth's enamel with a dental instrument called a fine diamond bur.
If you're shortening excessively long teeth, your dentist will trim the tooth to the desired shape with a fine sandpaper strip. Meanwhile, if you're shaping uneven or misshapen teeth, your dentist will contour and smooth the surface of your tooth into a position that comfortably sits within your dental set.
After the procedure, you will notice an instant improvement in the overall appearance of your new healthy teeth and smile.
Can You Reshape Teeth With Bonding?
In some circumstances, your dentist may recommend using a combination of reshaping and bonding techniques to help correct chipped or gapped teeth. The procedure involves applying resin following the reshaping of your tooth. The bonding agent helps restore gaps or chips before being rapidly hardened with dental instruments.
Bonded teeth that have been reshaped result in a straighter set of aligned teeth, consequently creating a new beautiful smile! However, it should be noted that the bonding process will result in additional costs.
Aftercare 
While there is no recovery period after your tooth reshaping, general aftercare is essential for ensuring that your new smile lasts. This is especially true if you received a bonding treatment alongside the teeth contouring service. 
Following the procedure, your dentist will provide you with a personalised set of instructions on how you can care for your newly-shaped teeth. 
However, here are some general aftercare tips to follow:
Avoid biting your nails, eating hard foods or chewing gum:

This risks cracking or chipping the bonding resin. 

Avoid staining food or drinks:

Beverages such as wine and coffee, for example, can discolour your teeth. Ensure you brush at least twice a day to avoid tooth discolouration.
You may experience minor sensitivity after your dental contouring. However, this is an entirely normal reaction and should clear within 24 hours of completing the procedure. If symptoms persist, book an appointment with our friendly team for a check-up to ensure no complications have emerged.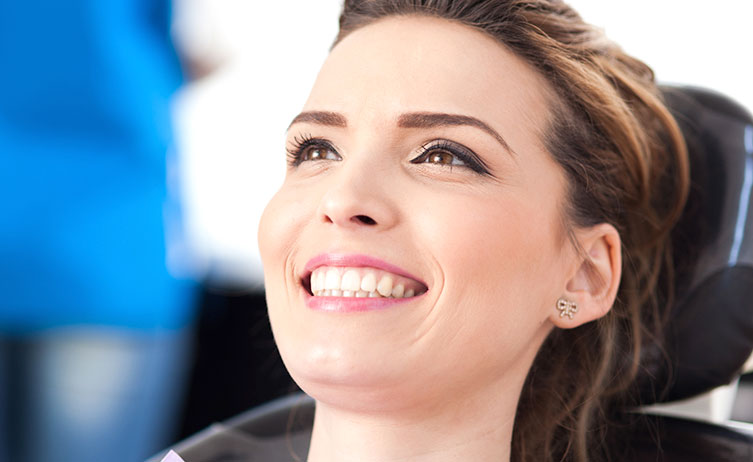 Pros and Cons of Teeth Reshaping
As with every other treatment, teeth contouring has its advantages and disadvantages. The best way to prepare for this cosmetic dental procedure is by understanding both the associated pros and cons.
Advantages
Some advantages that you can enjoy from investing in tooth reshaping include:
Quick, pain-free procedure:

You can expect the appointment to take up to 30 minutes and experience no discomfort as there are no nerves on the outer enamel layer.

Long-term results:

With expert execution and proper aftercare, you can enjoy the benefits of your reshaped teeth for years.

Avoid plaque build-up:

By correcting teeth overlap or gaps, you avoid plaque getting stuck in crevices, resulting in a build-up that can cause tooth decay or

gum disease

. 

Cheap cosmetic fix:

Where

braces

are the best method for correcting severely misaligned teeth, tooth reshaping is a relatively cost-effective fix for minor adjustments. 
Disadvantages
On the other hand, there are some disadvantages that you should consider before investing in this cosmetic dental enhancement. 
These include:
Limited to minor corrections:

If you have severe cosmetic issues, you will not be a candidate for tooth reshaping and may require other dental procedures. 

Subtle change:

While you may notice a difference in shape, tooth contouring does not offer a complete smile makeover. Other options can further enhance the aesthetic appearance of your smile, such as

teeth whitening

procedures

.

 

Potential for tooth damage:

While uncommon, there is a risk of penetrating the outer covering of the enamel, resulting in a cracked tooth. 
If you are worried about these disadvantages associated with tooth reshaping, you can discuss your concerns during an initial consultation with our Putney Dental cosmetic dental team. 
Tooth Reshaping Cost 
As every set of teeth is different, the cost will depend on the level of cosmetic work required. However, you can expect to pay around $50 to $300 per tooth.
If you require bonding as an additional service, you can expect to pay an additional $300 to $600 per tooth.
As dentistry is considered a cosmetic service, Medicare, unfortunately, doesn't cover this dental procedure. However, if you have private health insurance, get in touch with your provider to see if you are covered for cosmetic dentistry.
Cosmetic Dentistry Procedures With Putney Dental
Our Putney Dental team are experts in cosmetic procedures, providing you with the best professional advice to achieve the smile of your dreams. 
If you have any questions, concerns or queries, call us today at (02) 9808 2588. Alternatively, if you are located within Meadowbank, 
Ryde, West Ryde and Gladesville, come to our office for an initial consultation with one of our friendly cosmetic dentists.
FAQs
Is Contouring Bad For Your Teeth?
Although contouring teeth is a typically harmless procedure, it risks wearing down the enamel, leading to increased tooth sensitivity. 
Does Trimming Teeth Hurt?
Teeth trimming is a pain-free process as the procedure only removes part of your tooth's outer layer of enamel, therefore avoiding any nerves. As a result, you will not need any anaesthetic or numbing agent for the procedure.
Is Teeth Reshaping Safe?
Yes, teeth reshaping is a safe procedure with minimal risk of complications.
Cosmetic Dentist Near Me
Address
A. Suite 5, 227 Morrison Rd, Putney, NSW 2112
(Next Door To Royal Rehab)
Reserved Parking Available At Rear.
Opening Hours
Monday – 8:30 am – 5:30 pm
Tuesday – 8:30 am – 5:30 pm
Wednesday – 8:30 am – 5:30 pm
Thursday – 8:30 am – 5:30 pm
Friday – 8:30 am – 5:30 pm
Saturday – 8:00 am – 1:00 pm
Emergency Appointments Available