The first few dental appointments in a child's life can feel intimidating and scary, so it's important to make them feel as safe and comfortable as possible. The paediatric dentists at Putney Dental family dentist are committed to making your child's first dental appointment a positive experience that sets them up for a lifetime of good dental hygiene.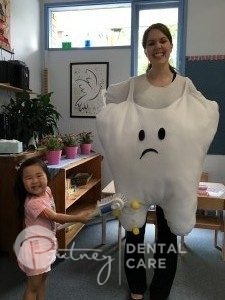 What is a Paediatric Dentist?
A paediatric dentist is a qualified health professional who specialises in treating children's dentistry needs. A paediatric dentist is required to have completed additional training in order to cater to children's needs and accurately assess their growth and development.
Our trained paediatric dentists love working with children, and are passionate about providing your child with the best possible first visit at a dentist.
When Should Kids Go to the Dentist?
It is generally recommended that you take your child to their first dental visit within 6 months of their first tooth appearing, or before their first birthday. Taking your child to the dental clinic from a young age can give your child's dentist the chance to spot any potential problems and address them early on.
How Often Should Toddlers go to the Dentist?
After your child's first dental visit, they should be taken to regular dental visits every 6-12 months. It's important for children to get used to dental visits from a young age, so that they develop a positive attitude towards them and feel comfortable with their regular dentist. It's also important for them to be introduced to good oral health habits as early as possible.
What to Do Before Dentist Appointment
Time it right
It's normally best to schedule your child's first dental visit in the morning, so that they're not tired or hungry when you take them. If this is not possible, try not to schedule it at a time when they would normally be eating or taking a nap.
Drop In
It can be helpful to take your child to have a look around the dentist before they actually have an appointment. You can show them around the waiting room and get them accustomed to the car trip.
Show a Positive Attitude
You should talk to your child about what to expect at their first dental visit and make sure you maintain a positive attitude and don't use any frightening words – like 'needle', 'blood' or 'scared'. If you yourself have any anxieties about the dentist, make sure you don't reveal this to your child.
Provide Reassurance
Let your child know that you will be with them the whole time, and that the dentist will be an exciting new experience. Explain to them what might happen during the first visit using simple, encouraging terms and explain why it's important to go to the dentist.
Bring an Audience
It may help to bring an older sibling or cousin with you and your child to the appointment so that they have a role model with them. The child might feel like they need to maintain good behaviour in front of their 'audience'.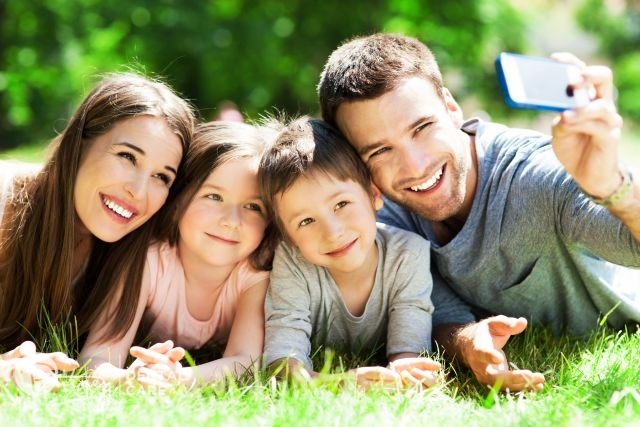 What to Expect at the Dentist
As a Parent
Your child's first dental checkup will be a gentle introduction to the dentist. The dentist will examine the child's mouth, including their teeth, gums and jaw, to get an understanding of how your child's teeth are growing and if there are any problems or early signs of tooth decay. They will provide oral hygiene instructions, including having a conversation about brushing, and nutritional advice.
The dentist will also record your child's medical history and ask you to book your next appointment.
As a Child
Your child might be allowed to sit on your lap while the dentist examines them, or you can sit very close to them while they're in the dental chair. For very young children, the dentist will show and explain everything that they're doing and they will be able to take breaks if necessary.
How does my Child Benefit from Early Dental Visits?
It's important to take your child to the dentist from a very young age for a few reasons. First of all, the dentist can be frightening even for adults, so taking your child to the dentist when they still have baby teeth will help them adjust. It's also essential that your child's teeth are regularly examined to check for early signs of tooth decay, tooth enamel defects or growth problems. If these concerns are identified early, they can be treated before they cause any permanent damage.
The dentist will also examine your child's gums and tissue to ensure that these are healthy as well. It might be hard for you to spot any problems in your child's mouth as a parent, but a dentist is trained to diagnose and treat any problems.
Your child should also become accustomed to a regular oral hygiene routine, and this will be easier to enforce if they are regularly going to the dentist. Engaging in good oral health habits from a young age is essential to a child's development.
FAQs
How long does a first dentist appointment take?
Your child's first dental visit will take between 30-45 minutes, depending on the child's age. The dentist will likely perform a general oral examination and have a conversation with both the parent and the child about oral hygiene.
How do I prepare my child for their first dental visit?
There are a few different ways that you can help prepare your child for their first dental appointment, but the most important thing to do is to talk to them about what to expect and encourage them to feel excited about the experience rather than fearful. Schedule their appointment for the morning so that they're not tired and bring along an older sibling if you think it'll help.
How much does a kid's first dentist appointment cost?
The Child Dental Benefits Schedule (CDBS) is provided by the government to help children receive basic dental care. The first appointment should be covered by this if your child is eligible, but you should bring your medicare care to every appointment.
Children's Dentist Near Me
Address
A. Suite 5, 227 Morrison Rd, Putney, NSW 2112
(Next Door To Royal Rehab)
Reserved Parking Available At Rear.
Opening Hours
Monday – 8:30 am – 5:30 pm
Tuesday – 8:30 am – 5:30 pm
Wednesday – 8:30 am – 5:30 pm
Thursday – 8:30 am – 5:30 pm
Friday – 8:30 am – 5:30 pm
Saturday – 8:00 am – 1:00 pm
Emergency Appointments Available