Cosmetic Dentist Sydney
At Putney Dental, we understand that teeth are a precious asset to building your self-confidence. For this reason, Putney Dental has the best team of cosmetic dentists within the Ryde, Meadowbank and Gladesville region.
Our qualified and experienced cosmetic dental team can give you the smile of your dreams, no matter the condition or state of your teeth! We are dedicated to improving the quality of your smile, providing a range of cosmetic treatment options that is personalised to your needs and budget.
What is Cosmetic Dentistry?
Cosmetic dentistry focuses on procedures that correct aesthetic dental issues to improve the overall appearance of your natural teeth. 
These procedures generally involve: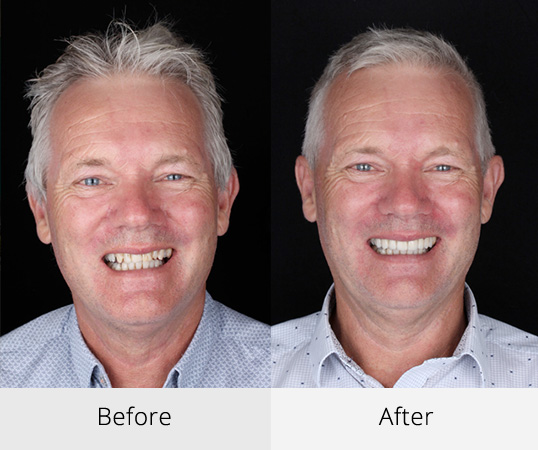 Straightening or reshaping your teeth to avoid dental crowding. 

Removing tooth discolouration to whiten your teeth.

Replacing missing teeth to create complete dental sets.
Thanks to advancements in cosmetic dentistry, there is now a range of accessible treatment options to help you perfect your smile. Even correcting minor aesthetic issues can profoundly impact the cosmetic quality of your teeth. 
Cosmetic Dentistry vs General Dentistry
While a general dentist should be the first point of call for maintaining your oral health, they may not be suitable for your cosmetic dentistry needs. This is because general dentists do not have the necessary training to complete cosmetic dentistry procedures. On the other hand, cosmetic dentists are qualified to treat and conduct procedures to correct the aesthetic quality of your teeth.
You should see a general dentist if you need a general check-up or treatment for oral health issues such as tooth decay or gum disease. However, if you are looking to improve the appearance of your teeth, you should consult a cosmetic dentist.
At Putney Dental, we offer both general and cosmetic dental services. If you're confused about which type of dentist you need to see, call our friendly team at (02) 9808 2588.
How Much is Cosmetic Dentistry?
As a broad price range, you can expect to pay anywhere between $800 to $15,000 for smile makeovers. When assessing the prices, several factors influence the overall cosmetic dentistry cost.
These include:
Type of treatment.

Materials used during your dental procedures.

Level of required cosmetic dental work (for example, focussing on one tooth or several teeth).
Unfortunately, neither Medicare nor the Child Dental Benefits Schedule covers cosmetic dental work for you or your kid. If you have private health insurance, talk to your insurer to discuss your policy options and see if they cover cosmetic dental treatment. 
Types of Cosmetic Dentistry
Cosmetic dentistry is an umbrella term that incorporates several dental treatments, ranging from more simple procedures to complex operations that require experience and skill. 
The types of cosmetic dental treatments include:
Teeth Whitening 

Veneers (Porcelain and Composite)

Orthodontics (Braces) 

Amalgam Replacement 

Laser Gum Lifts/Reshaping 

Tooth Reshaping
Teeth Whitening
Teeth whitening is the perfect treatment option if you're looking to renew your smile by improving tooth discolouration. The treatment option works by applying a fast-acting bleaching agent to the teeth that leave your teeth whiter, making your smile shine!
At Putney Dental, we offer both in-chair whitening services and take-home kits for your convenience. Our professional services provide faster and better results than over-the-counter teeth whitening products, alongside ensuring your safety through regular consultations with our cosmetic dentistry team.
Depending on the quality of your teeth, our dental-chair whitening service can cost between $500 to $1500 per row. Meanwhile, our take-home costs between $250 to $400 per row.
Veneers
Veneers are a popular option for people looking to enhance the appearance of their teeth. Veneers improve your dental appearance by covering aesthetic issues such as tooth chips, gaps or stains. The veneer fits over your natural tooth structure. It sits comfortably with surrounding teeth, giving the impression of a perfectly aligned dental set.
Putney Dental offers two types of veneers, these include:
Porcelain veneers

are made with a porcelain laminate. On average, they cost around $1500 per tooth.

Composite veneers

 are made with cheaper and less durable materials. On average, they cost about $850 per tooth.
Ultimately these veneers will help broken or misaligned teeth appear healthy and in perfect shape, providing you newfound confidence in your smile.
Orthodontics (Braces)
Orthodontics are a cosmetic dental speciality that involves the prevention and correction of misaligned teeth. We offer a range of orthodontic options to help meet your budget and dental needs.
These include:
Traditional metal braces

, which cost around $6,000-$9,000. 

Ceramic 'clear' braces

, which cost around $6,500 – $9,500

Lingual braces

, which cost around $6,500 – $15,000
Our orthodontic treatment includes a free initial consultation to understand your needs and prepare a personalised dental plan. 
Amalgam Replacement
An amalgam replacement involves using porcelain or resin materials to replace old fillings. If your tooth is decaying underneath your silver filling, you may need an amalgam replacement.
While it is a cosmetic treatment, an amalgam replacement is also important for good oral health. This is because untreated tooth decay can have severe health implications, such as gum disease.
Typically, resin fillings are used for smaller cavities, while strong porcelain materials are used for more significant amalgam replacements.
Laser Gum Lifts/Reshaping
Light amplification by stimulated radiation (laser) treatment is another cosmetic speciality that helps decayed teeth and gums. The minimally invasive procedure simply involves your cosmetic dentist shooting an energy beam into the problematic areas within your mouth.
Laser dentistry is a popular cosmetic option for treating gummy smiles, as the procedure helps adjust an uneven gum line. If you're curious about our laser treatment options for your gums or teeth, contact our friendly staff at (02) 9808 2588.
Tooth Reshaping
The bonding and reshaping of your tooth is another minimally invasive procedure used to fix cracked, chipped, discoloured and misaligned teeth. Due to advancements in our cosmetic dental equipment, reshaping teeth is easier than ever. Our dentists can successfully reshape your teeth without cutting into any healthy enamel, meaning that you won't experience any discomfort during the procedure.For more information on our services regarding the reshaping of your teeth, contact our friendly staff at (02) 9808 2588.
Cosmetic Dentistry Benefits
Aside from boosting your confidence with a new smile, cosmetic dentistry comes with a range of benefits that you can enjoy. 
Such benefits include:
Prevent dental problems:

procedures such as bonding or crowns help strengthen your teeth and avoid future dental issues. 

Increased appetite and headache relief:

correcting cracked, chipped, or misaligned teeth can reduce pain when eating and help manage chronic headaches. 

Younger appearance:

whitened teeth that are correctly aligned provides a rejuvenated look for people, making them appear more youthful.
Ultimately investing in your smile can do wonders for your oral and mental health, helping you take strides in your overall well-being. 
Risks Of Cosmetic Dentistry
However, as with any medical treatment, there are some risks associated with cosmetic dental work. 
Such risks include:
Side Effects:

it is not uncommon to experience temporary discomfort from your treatment. Symptoms include swelling, tooth sensitivity and excessive tiredness.

Gum Irritation:

gums can become inflamed, and you may experience some pain. 

Whitening procedures don't produce desired results:

discoloured teeth that are decayed or have fillings, crowns or bridges, do not react with the whitening agent. Therefore the treatment can provide less than desirable results. 

Whitening treatment is not permanent:

your new whitened teeth will not last forever, and certain risk-taking behaviours can impact their bright appearance. 
You can avoid these risks by ensuring you maintain good dental hygiene by brushing your teeth twice a day and flossing once a day. Try avoiding food or beverages that stain your teeth to preserve your new white teeth. This can include black coffee, red wine and smoking. 
Is Cosmetic Dentistry Worth It?
If you think that your teeth could be improved through dental work, then cosmetic treatment is your best option. Although cosmetic treatment can be expensive, you are investing in not only a better smile but an improvement in self-confidence!
If you are still unsure about cosmetic dental work, come into our clinic to consult with our friendly team of dentists.
What to Expect at a Cosmetic Dentistry Consultation
An initial consultation with our cosmetic dentists is the best way to decide if you need any work done on your teeth. We will examine your teeth and provide personalised recommendations based on our assessment.
To ensure that you are well-informed, we will also provide a treatment plan and quote of the procedure. Contact our cosmetic team to organise a dental appointment and start your journey for a brighter, healthier smile!
How Long Does Recovery Take for Cosmetic Dentistry?
The recovery time for cosmetic dental work varies depending on the type of procedure and level of treatment.
Minor treatments, such as teeth whitening, typically take two days for your teeth to fully recover. However, more serious cosmetic dental treatments should take around 4 weeks to recover.
Our Putney Dental team will be able to provide you with the exact recovery time for your treatment during an initial consultation, alongside advice on what to avoid in the days or weeks following the procedure.
FAQs
Does Insurance Cover Cosmetic Dental Work?
Generally, insurers do not cover the full cost of cosmetic dental treatment. For specific information tailored to your policy, we recommend that you contact your insurer to find out what cosmetic treatments they cover.
Is Cosmetic Dentistry Safe?
Extensive training for cosmetic dentists and new technologies has made cosmetic dental work extremely safe. Our cosmetic dental team are fully qualified for a range of procedures and will ensure that your treatment is carried out with the utmost care.
Is Cosmetic Dentistry Painful?
Most cosmetic dental procedures are painless. If we suspect that you may experience some pain during your treatment, we may use local anaesthesia to help reduce discomfort.
Does Cosmetic Dentistry Damage Teeth?
Cosmetic dental treatment can have detrimental impacts on your teeth if administered incorrectly. For this reason, we recommend that you access professional dentists who are trained and experienced in cosmetic treatments.
Is Cosmetic Dentistry Necessary?
Cosmetic dental work is voluntary and is only required if you would like to enhance the appearance of your teeth. However, if you're suffering from structural dental issues (misaligned or crooked teeth), a dentist may recommend cosmetic treatment as a preventative measure.
Send Us a Message
Call to book your child's first dental appointment today. Or, complete your details below to email us and we will respond within 24hrs.
Interactive Clinic Viewer
Use our interactive clinic viewer to familiarise yourself with our clinic.
Cosmetic Dentist Near Me
Address
A. Suite 5, 227 Morrison Rd, Putney, NSW 2112
(Next Door To Royal Rehab)
Reserved Parking Available At Rear.
Opening Hours
Monday – 8:30 am – 5:30 pm
Tuesday – 8:30 am – 5:30 pm
Wednesday – 8:30 am – 5:30 pm
Thursday – 8:30 am – 5:30 pm
Friday – 8:30 am – 5:30 pm
Saturday – 8:00 am – 1:00 pm
Emergency Appointments Available