Braces have been the tried and trusted method for straightening people's teeth for decades. Not only do braces provide cosmetic enhancements to your smile, but they also improve your overall dental health.
At Putney Dental Care, we provide a complete range of dental services to patients in Putney and the surrounding areas including Ryde, Gladesville, Meadowbank, Hunters Hill, Macquarie Park and nearby areas. 
We understand that braces are a significant commitment, both financially and cosmetically. For this reason, we offer several types of treatment options that can help meet your budget and personal preferences.
These treatment options include:
Metal braces
Ceramic (tooth-coloured) braces
Lingual braces (inside braces)
Our team of qualified cosmetic dentists are experienced in dental braces treatment, providing you with ongoing support to achieve the smile of your dreams.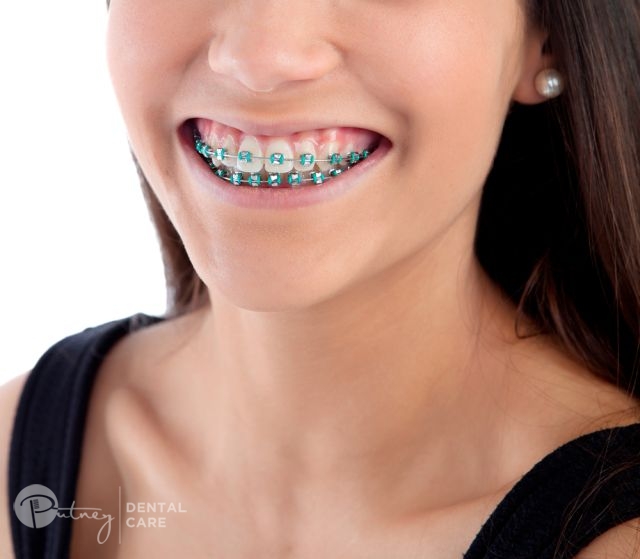 How Do Braces Work?
Braces are considered both a cosmetic and orthodontic treatment, designed to correct various dental problems for people of all ages. They work by fixing wires on your teeth via brackets that apply constant pressure. 
The tension from the wire gradually forces your teeth and jaw into a perfect position over time, providing a straighter dental set. 
Ultimately, the main objective of dental braces is to both correctly align your teeth and bite, which leads to improved oral health.
Treatment Time
In a general sense, you can expect to be wearing braces for anywhere from 6-18 months. Treatment time can vary from patient to patient, as it is dependent on a range of factors such as a person's oral hygiene, severity of bite and malalignment, rate of growth and frequency of breakages.
Furthermore, patients who are not able to come in for regular adjustments also prolong the time that braces stay in place. 
How to Know If You Need Braces?
Braces can be a suitable treatment method for people of all ages (including children), helping correct a range of orthodontic issues or straighten your teeth to improve your smile cosmetically.
You may want to consider braces if you have:
Crooked teeth 

Gaps in your teeth 

An overbite, underbite or crossbite

A poorly positioned jaw. 
By correcting these issues with dental braces, you can enjoy a straight set of teeth and better oral hygiene.
Braces Before and After
As shown in the image, braces create a perfectly aligned set of teeth.
Patients who elect dental braces to correct their gapped, crooked or crowded teeth can help deter future dental issues such as gum disease or tooth decay. This is because a straight dental set is easier to maintain and clean, avoiding food getting trapped in gaps or crevices. 
Pros and Cons of Braces
Whether you choose braces to improve your smile's quality or as a corrective orthodontic treatment, there are several benefits you can enjoy. 
Some pros of dental braces include:
Bridge gaps between your teeth. 

Fix misaligned teeth.

Shape your jaw, mouth and lower parts of the face into a perfect position.

Correct bite problems, helping improve your ability to chew.

Widen the width of your smile

Improve your ability to maintain good oral hygiene practices (such as brushing or flossing).

Minimise tension in your jaw joints, leading to less pain and headaches. 
However, braces offer some disadvantages that may deter you from selecting this treatment to correct your dental problems. 
Cons of dental braces include:
The appearance of braces can be off-putting to some people; however, there are some alternatives like ceramic and lingual braces

Significant financial and time-consuming commitment.

Keeping your teeth clean with braces can be challenging as food can get stuck in the brackets and lead to decreased oral hygiene. 

Changing your diet will be necessary to maintain your braces; there are certain foods and drinks that you should avoid. 

Your teeth may reshift following the removal of your braces (especially with growing kids and teens). 
Nonetheless, braces are a small investment when considering the plethora of benefits you can enjoy following your treatment. 
How Much Do Braces Cost?
When looking at the cost of braces, you can expect to pay anywhere between $4,000 to $8,000. Unfortunately, Medicare considers dental braces a cosmetic treatment and does not cover any costs. Furthermore, the Child Dental Benefits Schedule (CDBS) excludes specialist orthodontic treatments, like braces, from its coverage.
Contact your provider if you have health insurance to see if your policy covers orthodontic treatments.
The final cost of your dental braces will depend on several factors, including:
Treatment time.

Frequency of dental check-ups.

Quantity of breakages.

Type of dental braces.
A critical factor determining your final dental bill is the type of braces you choose. The following section will break down each service we offer with a price estimation, according to the Orthodontics Australia organisation.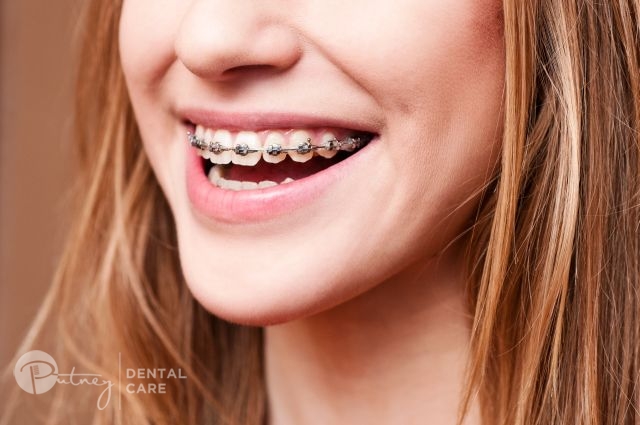 Types of Braces
Metal Braces
Cost: $4,000 – $8,000
When we think of traditional braces, metal brackets are commonly the first thing that comes to mind. Traditional metal braces provide consistent quality results, being the most recommended option by dentists. Furthermore, patients also favour metal braces as they are more financially accessible than other types.
Metal braces are made from surgical stainless steel, helping correct misaligned teeth and bite problems through fixed archwires.
If you don't mind the appearance of metal braces, this treatment option may be for you. We also can provide a range of coloured elastics to choose from, so you can update the look of your smile every month.
At Putney Dental, we use high-grade materials sourced from reputable suppliers.
Ceramic Braces
Cost: $4,500 – $8,500
Ceramic braces, also known as clear or invisible braces, are the same shape as metal braces; however, they use tooth-coloured materials to provide a more discrete look.
While more expensive, older patients may prefer this treatment method for cosmetic reasons. As these braces are ceramic, they are less durable than metal braces and tend to stain or break with general wear.
Therefore, this can make maintaining your ceramic braces a costly and time-consuming process.
Braces Care
Braces require you to maintain a certain degree of care that may deter you from choosing this treatment option. Here are some general maintenance guidelines to give you an indication of how much personal care is required during the treatment: 
Brush your teeth twice a day: Brushing is an essential daily requirement as it avoids the build-up of plaque around your metal brackets while also dislodging trapped food. When brushing, it's important to use a soft-bristled toothbrush with fluoride toothpaste. The best technique is to brush each tooth for roughly 10 seconds with circular motions. When brushing, also try to get the bristles underneath the archwires.
Use interdental brushes and mouthwash at least once a day: This will help clear any remaining food lodged in hard to reach crevices that a toothbrush can't reach.
Avoid certain foods:

You will need to avoid any hard or sticky foods to minimise the wear on your braces. Foods that you can't eat with braces include lollies (hard and soft), popcorn, chewing gum, popcorn, apples, chips and ice.
If you can maintain these guidelines in your daily hygiene routine, braces treatment is perfect for you! 
How to Relieve Brace Pain
You may also experience some discomfort following the installation or tightening of your braces. This discomfort can feel like a tightening sensation on your teeth and jaw, leading to increased sensitivity.
Generally, any pain or discomfort should clear within a week following your visit to the dentist. In the meantime, there is a range of home remedies to help you numb the pain:
Using an icepack outside of the mouth.

Drinking ice water.

Use orthodontic wax (provided by Putney Dental following your first appointment).

Rinse your mouth with warm water.

Massage your gums with circular motions.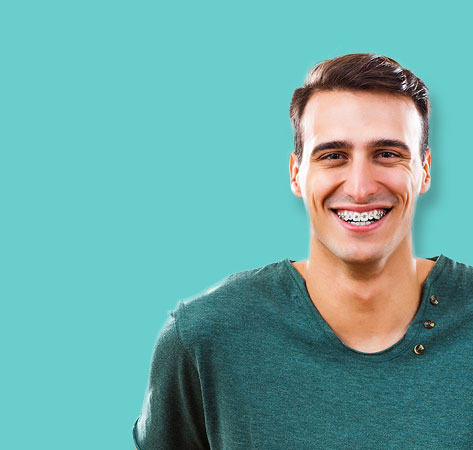 After Your Treatment
Following the removal of your braces, you can expect some minor faults with your initial results. This is a natural part of the treatment process, which will correct itself with regular and good dental hygiene practices. 
These faults can include:
Stains on teeth after braces.

Flared teeth after braces.

Small gaps in teeth after braces.
To help maintain the shape of your new teeth, you will also need to wear a fitted retainer at night. Retainers are an important post-treatment tool that will avoid your teeth shifting back into their original shape. You can expect to wear a retainer nightly for 12 months after your braces.
Alternative Treatment Options
If braces don't seem appealing to you, alternative cosmetic treatments are available to help you achieve your dream smile. Putney Dental offers services such as tooth reshaping, composite veneers, porcelain veneers and teeth whitening to help improve your smile.
For more information, head to our cosmetic dentistry page and see what treatment best suits you!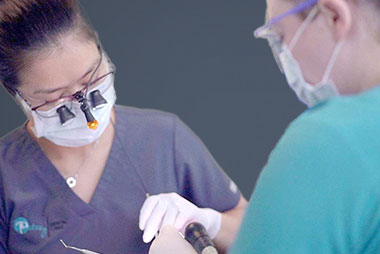 Expert Cosmetic Dentistry With Putney Dental Care
If you're unsure about dental braces to correct your smile, book an appointment with our cosmetic team today! Putney Dental offers free initial consultations for all orthodontic related services, allowing you to be fully informed before committing to the treatment. To make an appointment, contact us at (02) 9808 2588. Alternatively, you may also email us at [email protected] or fill out our contact form.
Our Putney Dental Care clinic services the following Sydney areas: Ryde, Meadowbank, Gladesville, Hunters Hill, Macquarie Park and nearby areas.
FAQs
What Is the Minimum Time For Braces?
While every set of teeth is different, you can expect a minimum wait treatment of 6 months. However, most people wear their braces for 18-24 months.
What Are the Side Effects of Braces?
You can expect some side effects as a result of your braces. This can include experiencing mild discomfort or tightness in your teeth, as well as some jaw pain. As a result, this may make eating painful at times.
When Do Braces Stop Hurting?
You can expect to stop experiencing oral discomfort around 3-4 days after the installation of your braces. If you are still experiencing some form of pain after a week, consult your dentist for a check-up.
Do Braces Fix Teeth Permanently?
It is not uncommon for teeth to shift in shape following your braces treatment, especially if you are a younger patient (less than 18 years old). To avoid your teeth from changing shape, we will provide a retainer that will maintain the quality of your new smile.
What Is the Best Age For Braces?
Both children and adults are suitable for braces. Depending on the type of bite and jaw alignment, some children aged 7-10 years old may be recommended interceptive orthodontics to improve their jaw and bite development.
Cosmetic Dentist Near Me
Address
A. Suite 5, 227 Morrison Rd, Putney, NSW 2112
(Next Door To Royal Rehab)
Reserved Parking Available At Rear.
Opening Hours
Monday – 8:30 am – 5:30 pm
Tuesday – 8:30 am – 5:30 pm
Wednesday – 8:30 am – 5:30 pm
Thursday – 8:30 am – 5:30 pm
Friday – 8:30 am – 5:30 pm
Saturday – 8:00 am – 1:00 pm
Emergency Appointments Available