Unhappy with the gaps in your smile? Unsatisfied with cheap implants or loose dentures? Need help finding the kind of treatment your teeth deserve?
At Putney Dental Care, we are committed to providing our patients with the best dental implants in Sydney. Restore the functionality of your teeth and the beauty of your smile in just a few appointments.
If you are interested in starting your dental implant journey today, we provide services to several Sydney areas, including Ryde, Gladesville, Meadowbank, Hunters Hill, Macquarie Park and nearby areas.
For more information, call Putney Dental Care at (02) 9808 2588, or book online to get started immediately.
What Are Dental Implants?
A dental implant includes a titanium fixture that is anchored to the jaw bone. This fixture then allows for an artificial tooth to be attached to the anchor, looking nearly identical to your natural teeth.
Over the months following the procedure, the bone surrounding your dental implant will grow to secure it into place. The time when your new tooth begins to fuse with the gums and jaw bone is known as osseointegration.
By the end, your new tooth will look and feel natural.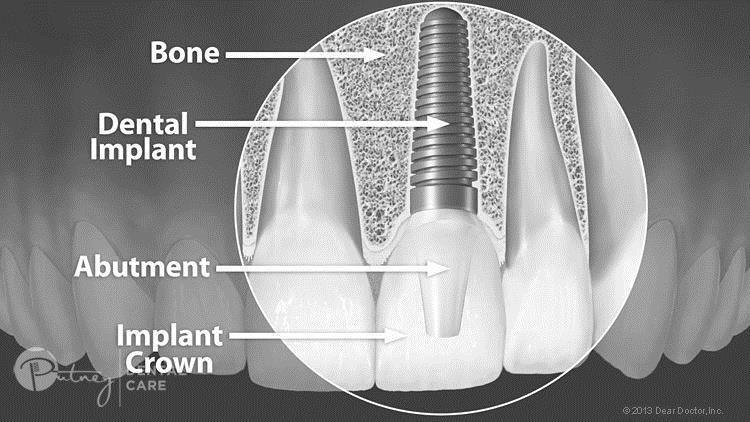 Who Needs Dental Implants?
Dental implants are a solution for those who require replacement teeth or may experience functional dental difficulties. It is an alternative for those who find dentures painful, uncomfortable, or difficult to use when speaking or eating.
However, you may not be able to choose dental implants as a viable replacement for your teeth if you:
Have untreated gum disease
Heavy smoker
Have any medical issues or conditions that affect bone grafting or healing
Are still experiencing changes to your facial structure, which is common for many patients under the age of 18.
Have been diagnosed with a systemic disease like Parkinson's, diabetes, or certain autoimmune diseases.
How Do Dental Implants Work?
Dental implant treatment is based on the condition of your jaw bone and the type of implant being placed. A titanium fixture is a common type of implant due to the body's easy acceptance of it. The ease of the osseointegration process means the implant will remain sturdy well into the future as the bones grow around it and secure it into place.
Dental implants act as an artificial root, and a porcelain or zirconia tooth can be inserted to replace a missing tooth seamlessly.
Pros and Cons of Dental Implants
Although dental implants are a permanent solution for missing teeth, that does not mean it is a one-size-fits-all procedure. Your dentist needs to assess whether or not your jaw bone and teeth meet the requirements for an implant to be successfully integrated.
Inserting dental implants may also take time and several procedures, so you must be aware of the pros and cons of such an intense procedure.
Pros
Most people can have dental implants
Helps to withstand greater biting forces than dentures, meaning that they last far longer
Gives you an option that feels and looks most natural
Can improve the appearance of 'hollowed' cheeks that can occur after a tooth is extracted
Do not require support from adjacent teeth and will not cause them any wear or tear
Can be cleaned with a normal cleaning routine at home, unlike dentures which require removal at night
Improves your self-confidence
Cons
Requires surgery
May have some complications. A list of surgical risks may include gum infection, sinus problems when implanted in the upper jaw, and possible damage to nerves, blood vessels or surrounding teeth
Is more costly than dental bridges or dentures
Requires multiple appointments to complete, which may take 3-12 months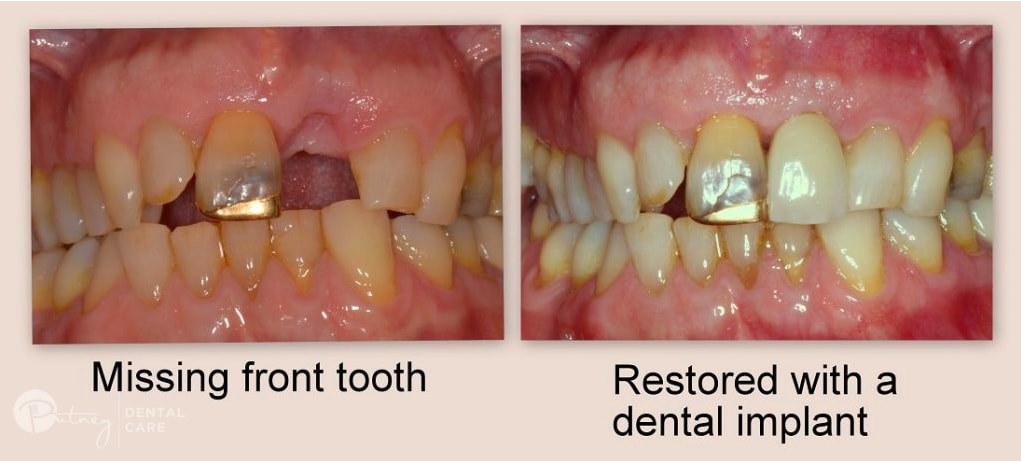 Dental Implant Procedure
While the dental implants procedure may take several appointments, the overall process is fairly simple. The time required to complete the treatment usually comes from necessary breaks, which occur between some steps to ensure your body is accepting the new oral implants.
Step 1: Initial Consultation
The planning process begins with diagnostic tests to confirm that you are a suitable candidate for the procedure. This also helps us plan the best treatment for you. It involves a dental examination, photographs, a dental cast of your teeth, and a 3D scan of your jaw.
We then discuss your full medical history to ensure your safety throughout the process.
At Putney Dental Care, dental implant surgery is routinely done without the need to go to a hospital or to have general anaesthesia. Since local anaesthesia is used, patients will be able to drive home, and many can resume work the next day.
Step 2: Extraction & Grafting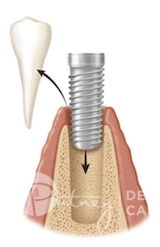 While many seek out dental implants to replace missing teeth, some may still have decayed or damaged teeth in place. For those requiring an extraction, we usually recommend waiting between 1-6 months before the implant is inserted. If the situation is dire and involves front teeth, it may be possible to perform the tooth extraction and implant insertion on the same day.
If your jaw bone is too weak or damaged for an implant to be inserted, the implant dentist can suggest a sinus lift or bone grafting to strengthen it. Both procedures require 3-12 months of healing before the bone can hold an implant.
Step 3: Insertion of Implant
The dentist will prepare an insertion site in your gum line and bone underneath, using local anaesthesia, before drilling a space where your implant will be placed. The titanium fixture is then placed, followed by the gum tissue being sutured over the implant to prevent debris from entering the healing site. Stitches are removed after 2 weeks.
Step 4: Insertion of the Abutment and Ceramic Crown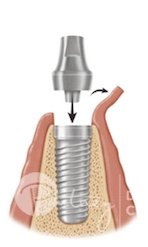 Your dentist will check that the implant is integrated and strong enough to support chewing forces. This usually occurs after the swelling has gone down, after which an impression of your mouth is made to replace missing teeth.
All crowns are carefully shaped to fit your smile at Putney Dental Care, and you can choose what material you want your replacement teeth to be made from. After you make your choice, the abutment and crown is attached to the implant.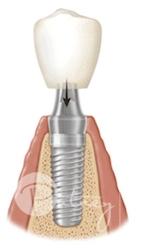 Our dentists will guide proper aftercare for your new dental implant. You will likely experience some mild pain and discomfort and potential swelling or bleeding around the implant site.
If you stick to your dentist's instructions, you can heal after 7-10 days. If you are experiencing any symptoms after this point, or they are getting worse, book an appointment with us for a check-up.
How Long Does a Dental Implant Procedure Take?
The time from the first consultation to your final crown placement can take as little as a few months to complete. The surgery for the implant itself usually takes between 1-2 hours, and you will have to wait around 3 months before installing the crown.
It should be remembered, however, that each patient is unique. At Putney Dental Centre, we will discuss the projected length of your procedure during your initial consultation.
How Long Do Dental Implants Last?
Dental implants fuse with your jaw bone. Scientific data on implants show that they can last many years, with a success rate of around 90% after 30 years.
The most long-lasting implants are the ones that experienced dentists install. Putney Dental Care boasts a team of dentists who have specific implant experience and training. When it comes to dental implants in Sydney, there is no team more committed to restoring your smile and confidence.
Are Dental Implants Worth it?
Dental implants may be the best option for you if you are conscious of your missing teeth or want to replace a damaged tooth with an identical replacement. They look and function identically to your regular teeth and require just a few installation appointments.
There are alternatives to dental implants if you find them too costly, with dentures standing out as a removable option. Although they benefit some patients, they can appear unattractive, feel quite bulky, cause gagging and become loose while eating.
Bridges can also replace multiple teeth, with crowns placed over the top of each tooth around the gap and the replacement tooth attached to them. While bridges can appear and feel like real teeth, the supporting teeth need to be prepared and trimmed smaller, resulting in the loss of healthy enamel. Furthermore, the length of the bridge is only suitable for short gaps.
Best Dental Implant Dentist in Sydney
If you need more information on dental implants and how to get started, do not hesitate to contact us today! Our dentists offer affordable and long-lasting dental implants for those located around the Putney, Ryde, Meadowbank, Gladesville, Hunters Hill and Macquarie Park areas.
Getting your smile fixed is worth it when you consult a professional dentist. So book online today to set up your first consultation.
FAQs
How Painful is Getting a Dental Implant?
The pain during the procedure is minimal through the use of local anaesthesia. Afterwards, there should only be some discomfort for the next day, easily alleviated by over-the-counter pain medication.
Can You Get Implants the Same Day Your Teeth Are Pulled?
If your jaw bone is healthy enough, a tooth can be extracted on the same day a dental implant is placed. However, most dentists recommend waiting 3-6 months after extraction to let the site heal.
Implant Dentistry in Sydney
Address
A. Suite 5, 227 Morrison Rd, Putney, NSW 2112
(Next Door To Royal Rehab)
Reserved Parking Available At Rear.
Opening Hours
Monday – 8:30 am – 5:30 pm
Tuesday – 8:30 am – 5:30 pm
Wednesday – 8:30 am – 5:30 pm
Thursday – 8:30 am – 5:30 pm
Friday – 8:30 am – 5:30 pm
Saturday – 8:00 am – 1:00 pm
Emergency Appointments Available