Our team at Putney Dental Care understand that a child's first visit to the dentist can seem scary.  At Putney Dental Care, we go the extra mile to make them feel right at home.
Our team is fun, friendly and attentive making your child's visit as comfortable as possible. They'll love coming back to get their teeth cleaned or have a cavity filled by one of our friendly dentists!… For others, it may not be your child's first dental visit, but at PDC we make sure that each visit is a unique and positive experience for children. With our famous berry-flavoured mouth rinse, they'll be asking to come back for more!
Frequently Asked Questions
To guide you through your dental journey, here are some frequently asked questions (FAQs) and special offers for your child's first visit (and of course for our supermums):
At what age should our child first see the dentist?
We recommend scheduling your child's first dental visit at around 3-4 years of age. At this age we are able to fully interact with them and make their first dental visit enjoyable and relaxed. This will also give them a "home" for their 6 monthly preventative visits.

Will they be having treatment at such a young age?
Not necessarily. The whole idea is to get them started young. Allowing your child to have a positive experience will make it easier for them in the future. However, there are some kids who are happy to have a "mini clean" and a ride in our chair. We usually start doing proper cleans at age 6.
What should I expect?
Your first visit will be fun and interactive. The purpose of this visit will be for the dentist to simply check the teeth and gums. Some kids may be nervous (and there may even be some tears), but it is important to remain calm and give them encouragement. Older children, ages 6 and above, might be up for their first clean. We also will give your child some tips on tooth brushing techniques and flossing.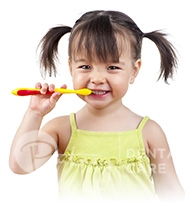 How should I prepare?
Getting them to brush twice daily will get them used to the idea of someone looking in their mouth. Having role-play sessions where you both get a chance to play the dentist may also help them. Promote the idea that the dentist is their defender in keeping the "sugar bugs" away and there is nothing to be worried about. Never say things that will make them feel like you yourself do not like going to the dentist, such as "I do not like coming too, but we have to do it!". Remind them that they have support from you. On the day, let them know they can also bring a special friend along (like a stuffed toy), and we can even check their teeth too!
Please visit our website or call 9808 2588 for more information on your child's first visit or for any questions for yourself.
Complimentary check-ups

Available for children under 6 years of age.

Complimentary orthodontic consultation

We recommend a consultation for you child at age 7.

Discounted / Gap-FREE comprehensive check-up and clean

Starting at 6 years of age as well as for adults), exclusive to new patients. For information on inclusions see our terms and conditions below. Options are as follows:

Gap-free first visit for those with a health fund
Discounted rates for those without a health fund:
– 6-12 years old: $120
– 13-17 years old: $150
– Adults: $195