Family and General Dentistry Services for Local Patients in Gladesville
In need of a Gladesville Dentist? Putney Dental Care offers general dentistry services to maintain good dental health. Our Gladesville dentistteam strongly believes that excellent dental health contributes to your overall emotional wellness.
Schedule your first visit with us today to get the best professional family and general dentistry services in Gladesville. When we say professional, we mean it because your first visit serves as our first step to determine treatments that will suit your dental needs. How? We conduct a comprehensive evaluation of your oral health.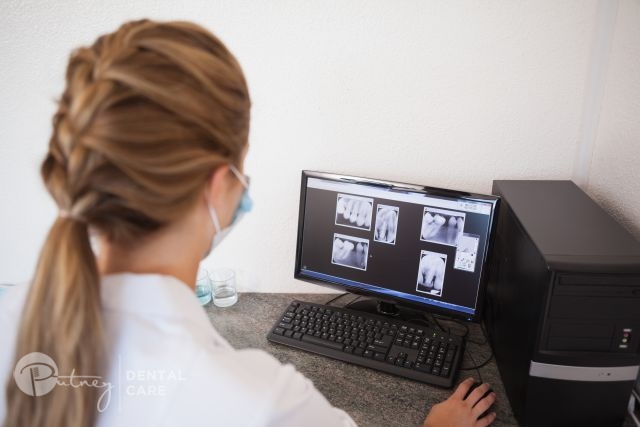 We have outlined our processes below so you can familiarise yourself with what we do prior to your appointment
1. Regular Dental Maintenance
Our dental examination includes an assessment of your gums, teeth, bite and soft tissue (tongue, lips, inside of your cheeks and mouth). A regular assessment, typically every six months, may allow for any small underlying problem areas to be detected before they become sore or require more complex treatment.
2. Dental Prophylaxis
We also recommend a thorough cleaning of your teeth and gums. This effectively removes plaque buildup, tartar and staining. At our Gladesville clinic, we use the latest technology in air polishing called air-flow therapy. Regular dental cleaning helps to prevent gum disease that can cause major dental problems. If left undetected and untreated, you can even suffer eventual loss of teeth.
3. Oral Examinations
X-rays may be needed to check the surfaces in between your teeth and the area beneath the gums. We do this with our harmless diagnodent device. In line with general dentistry standards, dental x-rays are taken on an "as needed basis" and as little as possible. This means for an adult with good dental history, a new set of intra-oral dental x-rays every two years may be warranted. If the risk of cavities is higher, then an increase in frequency is recommended.

Seeing Your Gladesville Family Dentist: How Often?
To get the maximum benefits of choosing us for your professional family and general dentistry services needs, we encourage you to check in with us twice a year. But if you're experiencing any bothering issues in your mouth, or on your gums and teeth, or any other dental emergencies, you should call us immediately so that our professional dentist Gladesville team can look after you right away.
At Putney Dental Care, we'll surely take care of your smile as we provide you the best general dentistry services in Gladesville. If you want to find out more about the inclusions of our general dentistry services, visit our friendly clinic or call us on (02) 9808 2588.