Do You Need Some Dental Implants? Book An Appointment With Putney Dental Today!
Restore your beautiful smile with modern dental implants. Today, the technology of dental implants is continually evolving and artifical teeth are becoming increasingly affordable. For more information call us today at Putney Dental Care on (02) 9808 2588.
Missing teeth can result in altered chewing ability and also affect your confidence when you smile. When missing teeth are left untreated for many years, additional strain is placed on other teeth. This results in unbalanced forces which can cause teeth to chip or fracture.
For affordable dental implants, come to Putney Dental Care. We offer solutions at a specialist level to ensure that you receive quality care with confidence.
Why Implants?
Dental implants have been developed since the late 60's and have been used extensively for the replacement of missing teeth. Acting as an artificial tooth root, they are fused into the jawbone to replace natural teeth that are missing. Implants and their crowns are designed to mimic the look and function of natural teeth.

A completed dental implant has three main components:
A titanium implant: a metal root

An abutment: a post

A Crown
How You Can Benefit From Implants:
Helps to withstand greater biting forces than dentures

Gives you an option that feels and looks most natural

Can improve the appearance of 'hollowed' cheeks that can occur after a tooth is extracted

Are firmly secured into the jaw

Do not require support from adjacent teeth

Can be cleaned with normal cleaning routine at home, unlike dentures which require removal at night
Planning for Dental Implants
The planning process begins with diagnostic tests to confirm that you are a suitable candidate for the procedure. This also helps us plan the best treatment for you. The process includes a dental examination, photographs, dental cast of your teeth, and 3-D scan of your jaw.
We go into discussion of your full medical history to ensure that you will be safe throughout the whole process.
Local anaesthetic: At Putney Dental Care, dental implant surgery is routinely done without the need to go to hospital or to have general anaesthesia. Patients will be able to drive home and many patients resume work the next day.
The standard procedure for dental implants involves 3 main stages: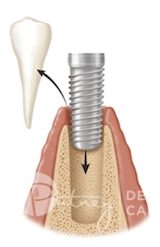 Implant A Insertion of the Implant

The dentist will prepare a site in the gum and bone and a cylindrical shaped implant is installed into the bone. Stitches are removed after 2 weeks.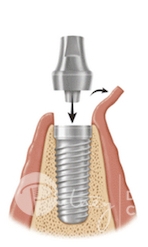 Implant B Insertion of the Abutment
An abutment is fitted after the bone has healed around the implant. The abutment acts as the support post and connector between the implant and the artificial tooth (crown).

Implant C Attachment of the Crown (Tooth)
Your dentist will check that the implant has integrated and is strong enough to support chewing forces. The crown is then attached on top of the abutment.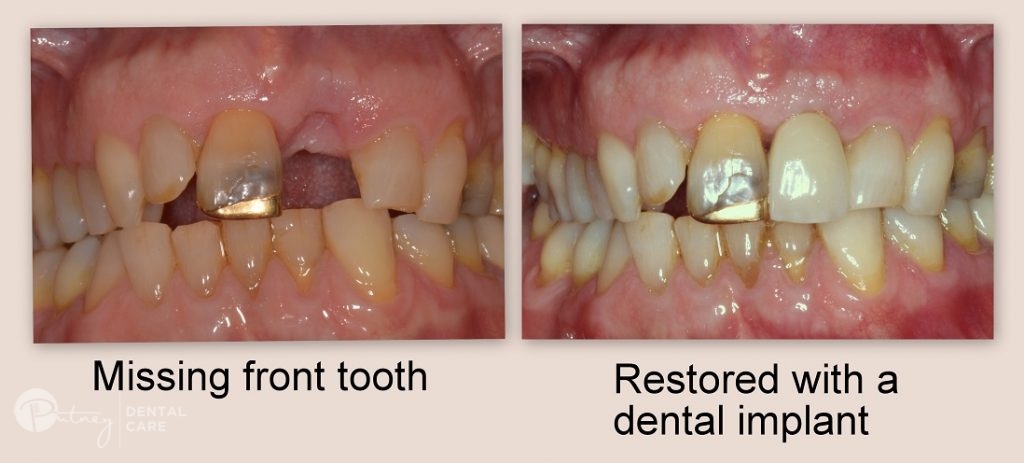 Case Example
For many years, patients have been forced to accept the use of removable plastic dentures to replace their missing teeth. Although they are a good option in some situations, they can appear unattractive, feel quite bulky, cause gagging and can become loose while eating.
A bridge is an option for replacing missing teeth. On both sides of the gap, crowns are placed over the top of each tooth. The replacement tooth is attached to the crowns, all cemented together as one piece.
The bridge is cemented in place so it is not removable. Bridges can appear and feel quite natural however, the supporting teeth need to be prepared and trimmed smaller, resulting in the loss of healthy enamel. Furthermore, the length of the bridge is only suitable for short gaps.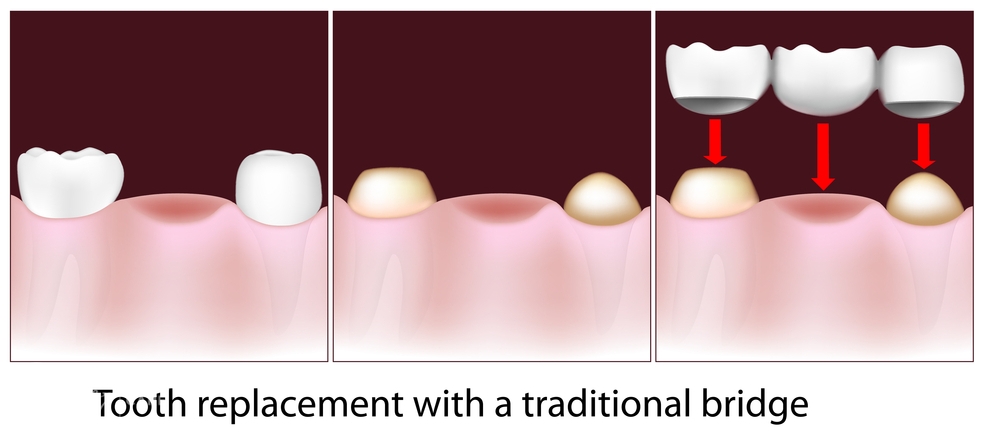 Get started today by calling us on (02) 98082588. Arrange an appointment or request more information on dental implants from our friendly representatives. You can also ask about our complimentary implant consultations.